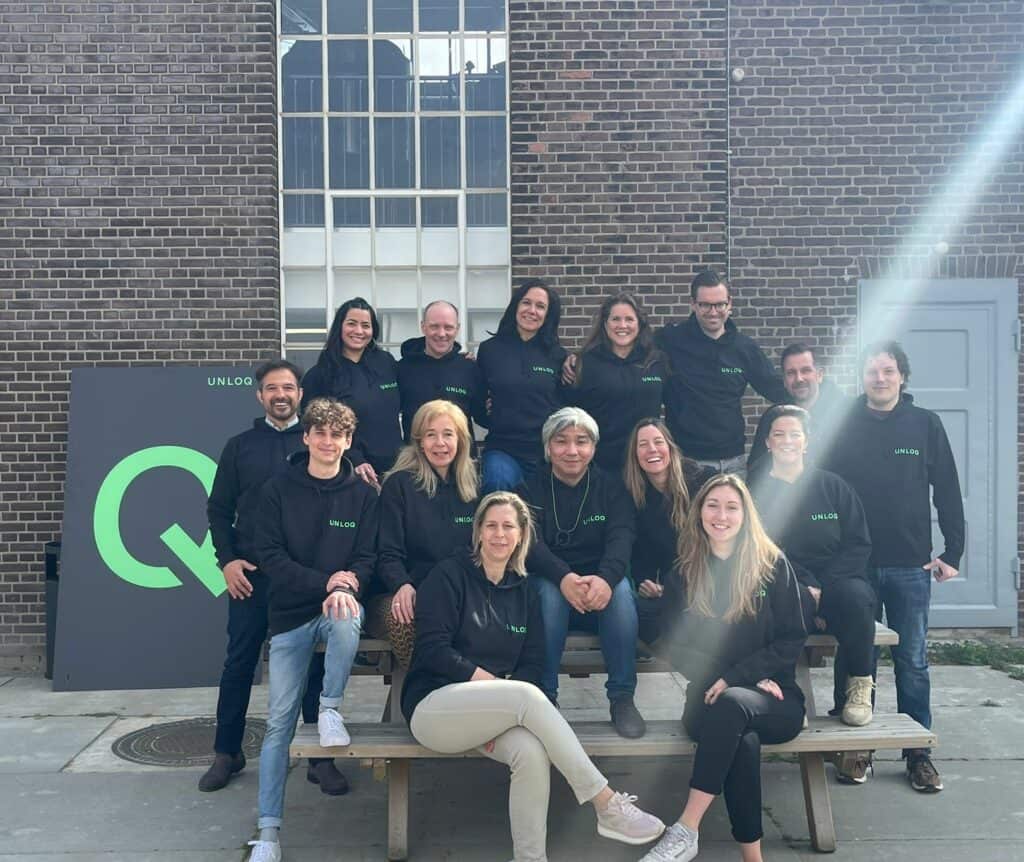 After ten years of delivering value under the brand eCoachPro, we felt it was time for a change.
During those years, we underwent a significant transformation. We grew into a broader human-centric, science-based, scalable, and technology-enhanced Learning and Development solution provider that enables organisations, groups, and leaders to transform themselves and their teams.
In the spring, we lived a defining moment; we became officially and publicly UNLOQ. We strived for a name that truly embodies everything we do.
To present our new name and identity, we organised a hybrid global symposium on how to unlock human potential in a diverse and inclusive world. We invited a very diverse lineup of expert speakers. HR professionals across the globe joined the event, and the in-person event took place in Amsterdam. Over a hundred people joined us from the Americas, Asia, Europe, and Africa to get inspired and learn on topics that focused on unlocking human potential.
How did we get to UNLOQ?
It all started with two brilliant minds, Anne Ribbers and Alexander Waringa, two psychologists who had an idea and a dream where they believed people could grow and develop through individual coaching.
Anne had a first-hand experience working for ING, where she had to manage a team, and she needed to transform the group into a happy team. Everyone would ask her how she made that happen, and she would say she coached each team member.
Alexander and Anne also believed coaching should be made accessible for much larger groups of people worldwide and not only for the happy few. Every leader should develop coaching capabilities that genuinely help you connect with the other person: show sincere interest and care, ask questions, actively listen and support the growth & development of every employee.
Because of their academic standing in people development, Anne and Alexander decided to jump on the train of a governmental subsidy opportunity and write a proposal to apply for a grant on innovative solutions to increase well-being in the workplace back in 2010. Where odds were very slim, it was approved, and this is where it officially started!
In that journey, we developed the ABC model, the UNLOQ methodology, because no one really knew what e-coaching was and how it could work. Then came the Masterclass, and we released our very own book, and that was only the beginning of eCoachPro, now UNLOQ.
The two pioneers, Anne and Alexander, were very academic, very ambitious and with a lot of idealism that they really wanted to make a difference, and soon realised they would be going through a dynamic entrepreneurial journey to realise their dream. Anne emphasised in our symposium, "It feels so familiar, and we've only worked together online, and that is something we've believed for a long time, that online, you can work and build deeper emotional relationships and develop people."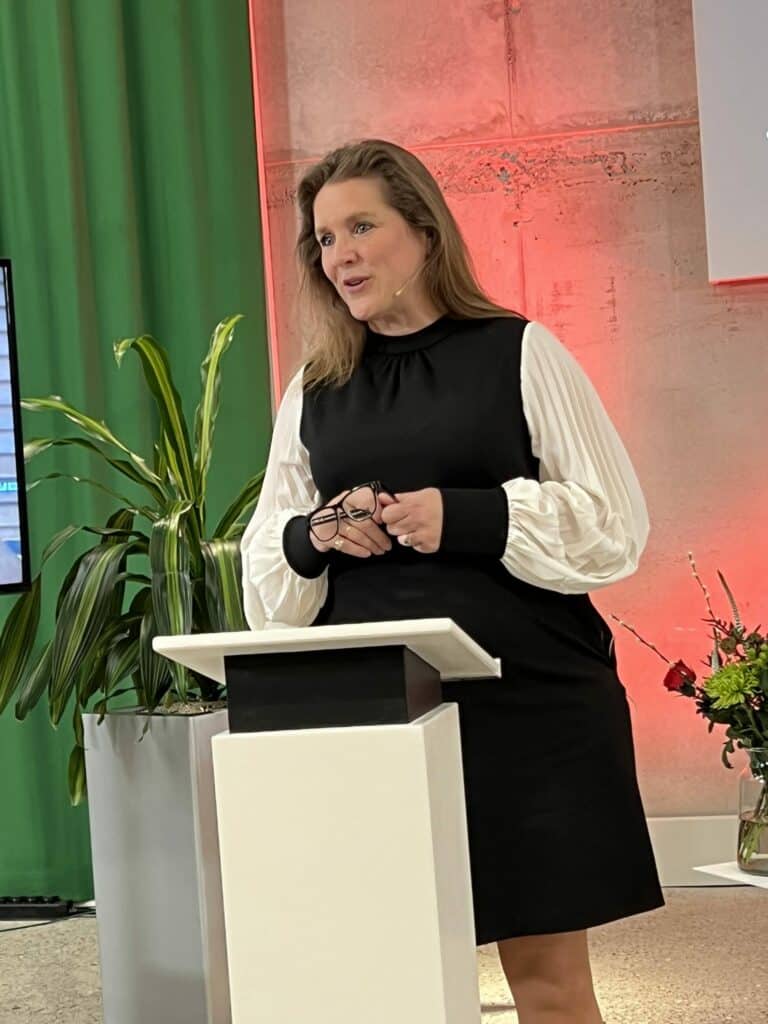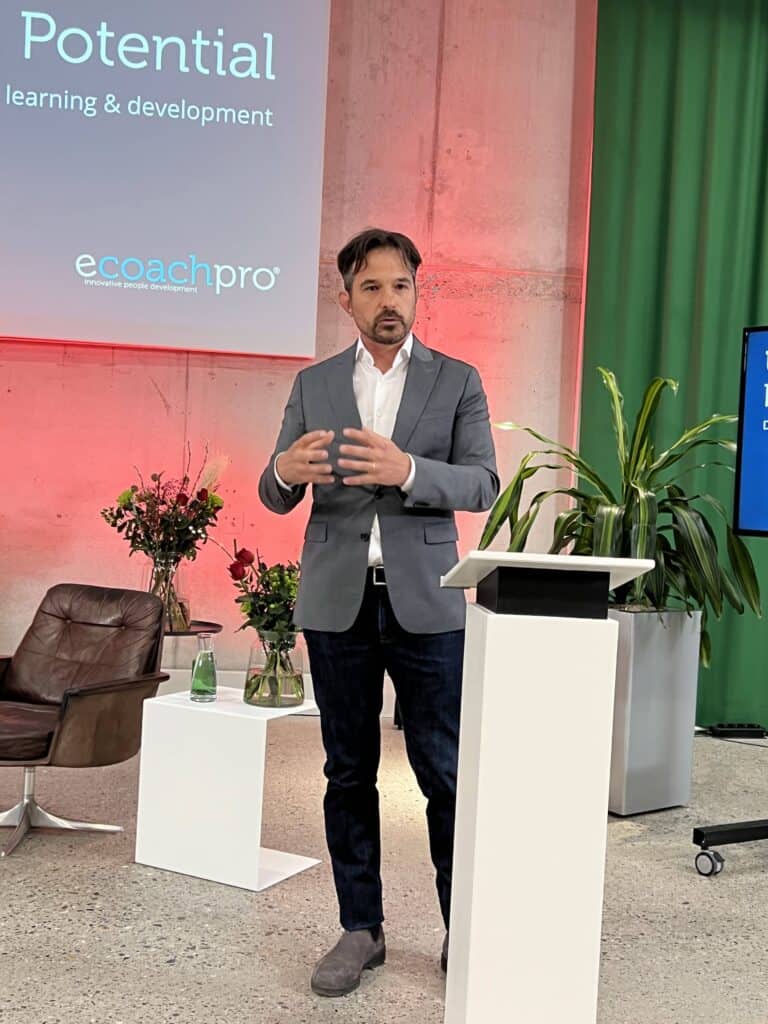 Marc Coenen, the third partner to join UNLOQ in 2015, had a conversation with Anne where she shared that they were looking for capabilities to skyrocket the project they had in their hands.
To further signify the UNLOQ name at our event, Marc mentioned: We developed relationships with clients, and we noticed pushing one solution like standard coaching or an off-the-shelf training that is very far from the context of an individual that wants to behave differently doesn't work. Combining individual coaching and training that is fully contextualised in the work of the individual and the organisation is critical to real behavioural change in the workplace.
We have over a hundred people working with us worldwide at UNLOQ, former eCoachPro, and we all work under the same belief that we can make this world a better place through the work that we do.
UNLOQ is a science-based, technology-enhanced, human-centric and scalable approach. We help our clients by giving them a thorough context of their workforce and the field they're in to deliver better results truly.
We are optimistic that UNLOQ wouldn't be what it is today if it weren't for the trust our clients have deposited in us and the incredible and dedicated core team we have.
Every day we strive to become a brand leading in effective people development by touching people's minds, hearts, and lives. We can proudly say we help people in their daily context to become better professionals & human beings.
Expect more things to come as we continue to UNLOQ human potential.
Continue to professionalize and optimize
In addition to the continued development of our UNLOQ Campus coaching platform, we also accelerated the ISO 27001 certification process. This process had already started in 2019 and was aimed at improving our internal processes and increasing the security of customer information. Especially at a time when more and more work is done online and remotely, it is a challenge to ensure maximum confidentiality of information. Obtaining the ISO certificate is not easy; as an organization you have to comply with no less than 166 standards. Thanks to a great team effort, we are happy to share the good news that we have now successfully passed the audit! This makes us one of the few (international) L&D organizations with an ISO-27001 certification.